ROUND 1 FIGHT !
" I'm gettin' kinda fat like a big huge sumo ": Gangstarr 1992
People often ask me something along the lines of: "Hey Chief, you skip breakfast and pig out. Sumo wrestlers skip breakfast and pig out. Why do they get fat but you don't?"  That's a very valid question. However, skipping breakfast and pigging out are where the similarities end my friends. The differences are what bring about a very different end result. In order to be clear, I eat " breakfast," I just don't break my fast first thing upon waking up. My breakfast is usually the first course of my supper, ha ha! From my perspective, it's obvious that there is no connection between automatic weight gain and skipping breakfast, but in order to understand where this idea came from, I Googled around a bit. Whoa, did I ever find a ton of sites that seemed to copy paste the same idea. The "no breakfast equals weight gain idea" is alive and well on the internet. Unfortunately all of the spokespeople were calorie counting/sweatin' to the oldies type of trainers saying stuff like "Ladies, don't eat like a sumo!" or "Hey girl, are you on the sumo diet? You're gonna get fat!"
The gist of their bovine excrement comes down to three ideas:
1.) Never skip breakfast.
"Sumos skip breakfast and they are fat."                                                   ( add whiney " but I don't like squats" voice here )
2.) Don't eat socially because you eat more when you're socially eating.
"Sumos eat socially and they are fat."
3.) Eat frequent small meals to avoid "stretching your stomach out".
"Sumos eat big meals and they are fat"
My thoughts on the matter?… Fuck all that noise!!  I've skipped breakfast for years; it does not make you fat! Eating socially may cause you to eat more in one specific sitting but not more in the long run. Your body will average it out. It certainly does not make you fat.  That's complete pig, horse and bull shit!!! I always eat socially and go out of my way to do so during any fat loss experiment; It's important for your well being. Plus I steady rock big meals. Perhaps you stretch your stomach but it won't change the amount you eat regardless how much you increase your stomach capacity. It doesn't become an unstoppable fat creating bottomless abyss. It simply does not work like that at all. I actually eat more during a weight loss phase than a fat gain phase. In my everyday life, I avoid small meals like any man dodges the question: "Does this make me look fat?" There is no right answer to that question. Just run boys, run. Dodge that shit like the plague!
First of all, when you look at sumo wrestlers skipping breakfast and then look at their girth, it makes sense why people think that skipping breakfast makes you fat. Now while the sumo "diet" consists of 2 meals a day, the same can be said for many Japanese that do not partake in the sumo lifestyle, and they are mostly thin. Historically speaking most humans ate one or two meals a day and most were lean as well. Are you starting to see the flaw in this common internet myth? Stick with me because it goes much deeper.
The mainstream perception of sumowrestlers is that they are big fat guys in diapers who push each other around. In reality these guys are some of the strongest, healthiest and most fit athletes in the entire world. Seriously!!! They actually have more muscle mass than most of the biggest power lifters. You just can't see it because it's hidden under a layer of fat, which is closest to the skin. A study was done on three different types of athletes: sumo wrestlers that did no weight training, advanced power lifters, and body builders. They compared their lean muscle mass to their height and astonishingly the sumo wrestlers came out on top way ahead of the power lifters in terms of highest amount of muscle mass. The power lifters themselves had only slightly more mass than the body builder's group. Now when you consider the sumo group did no weight training, you quickly realize two things. First, under the right circumstances, body weight exercise stimulates muscle growth just as much as weight lifting does.  Secondly, eating is just as important as training if not more when it comes to building muscle. Keep that in mind if any of you out there are trying to bulk up.
When you look at it from the standpoint of total fat it seems like sumo wrestlers are very fat because they do have a large fat mass. It is larger than your average person by a long shot but it's mostly in the layer between the skin and muscles. This layer of fat is referred to as subcutaneous fat. It's not dangerous from a health standpoint like visceral fat is. These two different types of fat are not at all on the same level. It definitely gives a sumo wrestler a very puffy and flabby look but the fat is not as thick as you might think. There is a lot of muscle under there! When you look at sumo wrestlers under closer scrutiny they are physiologically different from the average overweight American in two significant ways. First, their weight is made of mostly muscle instead of fat. Many have 10 -15 % body fat. The famous sumo wrestler Musashimaru's body fat percentage at his heaviest, for instance, was said to be around 20%. Now compare that to Johnny Fat-guy who's body fat is anywhere from 30 to 40%, if not more!  When you factor in a total weight of 600 pounds and a body fat percentage of say 15% it comes out to a fat mass of 90 pounds. Therefore it is very noticeable because it's hard to hide nearly 100 pounds of fat under a bubble goose jacket lol. A 300 pound man of 30 % body fat would have the same over all fat mass if you weighed only the fat but his mobility and quality of life would be way different. I've been there at around 280 with 30 percent body fat. It sucks big time. The muscle mass that the sumo wrestlers have makes all the difference. Watch these two videos below for a comparison of the abilities of Johnny fat guy and a sumo wrestler.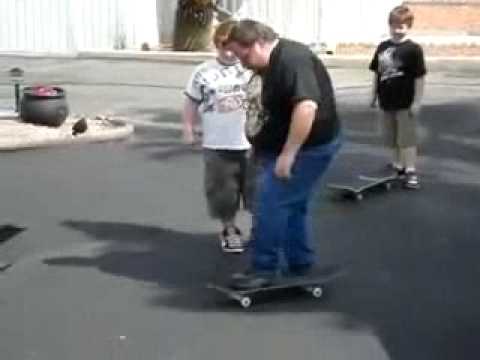 Notice the muscular look in the sumo wrestlers' arms? This is very different than your average saggy armed johnny fat guy. most sumo also have pretty muscular looking legs. I know the skateboard video does not prove all overweight people are clumsy but it's funny. On a serious note, think back in your life in relation to all of the overweight people you have known. Which video would best describe there agility and strength ? Carefully observe those around you and you will see how sitting around doing nothing leads to a body not very good in the finesse department regardless of weight. Sumo wrestlers have got the moves, the power and great control of their large bodies.
The second major distinction is their overall health is completely different than the average overweight person. In all of us humans the left side of our heart is always thicker because it works hard in the process of delivering blood all over the body whereas the right side only takes care of the lungs and as a result is less developed. Professional athletes are frequently diagnosed with a medical condition known as athletic heart syndrome. This condition is the body's way of adapting to strenuous physical activity by enlarging the hearts muscles to increase the blood volume and thus the amount of oxygen that gets delivered to fatigued muscles. This might very well be known to many of you but the surprising thing is this is not limited to lean track stars and basketball superstars. According to the American Journal of Cardiology, 85% of sumo wrestlers exhibited the ventricle dimensions of a typical athletic heart! I highly doubt you would find the same thing among the video game playing Luther burger enthusiasts with 50 inch waists. Much like typical obese people, sumo wrestler's heart cavities are very spacious on the left side but unlike the average overweight person they have very normal heart functions.
It's a very unusual combination to have the increased heart volume found in obese people and the over-developed left heart muscles like top athletes. All in all this allows them to maintain high energy output and powerful precise movements with an extremely large body. Simultaneously this adaptation is part of the reason why they are rarely afflicted by diabetes, heart disease and a few of the other common "fat guy cooties". Now if we combine these unique characteristics with a heavy amount of specialized training, something surprising happens….  they end up highly metabolically active! So….yep, you guessed  right, sumo wrestlers are pretty healthy guys. So much for the idea that the sumo diet causes obesity.
To sum up this post, it's like Guru of Gangstarr said, they are "kinda fat".  sumo wrestlers are certainly not fatasses in my book. I would be more inclined to call one of them  "big ass bastards" as that is a term of endearment and I respect their dedication, culture and sport. Now whether or not you want to be a big ass bastard is a whole other question, but sumo wrestlers certainly want to be big ass bastards; They go out of their way to become them! I'm a pretty big bastard but I would need a few hundred more pounds to earn the "ass" part of the title. Now that we have gotten past the mainstream idea that sumo wrestlers are fatasses, shall we compare their lifestyle to mine in the next post and see where the major differences are?   😉
(part 1 of 3 ) jump to Part 2 here